Lower prices | Custom Treatments | Personal Consultation
Based in Santa Clarita, CA, we're idealists with practical minds that believe in the Power Of U. The play on letters and words is not a gimmick, it's a philosophy that we allow to permeate the entire process of consultation, design and creation of your vision. From website aesthetics, logos, 3D renderings and custom animations for social media, complete photography, videography and audio services, etc., we strive to translate your dreams into media that others can relate to. Any design should be to the point and convey your message effectively. Marketing your product, organization or personal business is merely an extension of "U"!
From basic-yet-elegant designs to more complex application driven websites, our Award Winning designers look forward to working with you to project your desires and achieve your goals within your budget.  There's never a charge to talk to us about what you want and how you want to get there, ever.
The Right Company. The Right Solutions.
We're a One-Stop-Shop for all your online presence needs.  You want expert advice in an ever changing world of digital information.  Maximize your Return On Investment by choosing the right company for the job, at a price you can afford.
Web Domains
We manage searches, registrations, renewals and more
Need A New Domain Name?
Rest assure we will incorporate beautiful imagery into your project so it stands out to the world.
Intuitive Options
Our intuitive options allow for quick and easy changes to your website when needed.
Interfaces Matter
Management of your online content needs to be nimble and quick when changes are required to keep up with your demands.
Responsive
No matter what screen size or device, your content will look amazing.
Looks Amazing
Your content matters most, and needs to be accessible anywhere, anytime.
Meet Your New Best Friends, Our Gurus.
Wants to work at Utopia
100%
We Thrive On Creativity, Intuition & Determination.
Our team delivers on its promises to create dynamic content for your online presence needs.
Creative
Pulling from all aspects of your business and vision, we create elements to match your goals.
Intuitive
The creative process relies heavily on intuition – that feeling you get when you know what you're making is going to blow your socks off.
Determined
We won't stop until you're happy with the results and ready to launch!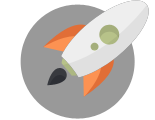 We're Here To Help Your Business Blast Off!
Through Creative Ideas, Innovation & Sheer Determination