Get Support
Call us or email us with your support question and we will help you immediately
LET'S GET TOGETHER
We like coffee! Let's sit down and discuss your project.
LOOKING TO PARTNER UP?
We love to collaborate on projects with other creative firms.
Let's meet over a cup of coffee or at your business.
Give us a call
Phone: 1.661-513-3394
Email: [email protected]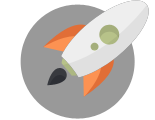 We're Here To Help Your Business Blast Off!
Through Creative Ideas, Innovation & Sheer Determination